WOW! When I saw what my fellow MSIA
(MetalSmithsInAction)
team member created, I knew I had to blog it! Tess is a talented MetalSmith and Jewelry Artist. This Bridal Crown was created for a close friend who is about to be married. I think the bride of this piece is lucky to have such a talented friend!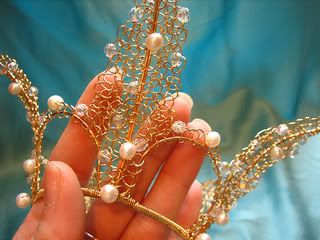 Please visit Tess's shop on Etsy at NovaDesigns. Here is her Bio:
"I was born and raised in beautiful Sweden, with the sea and forests just around the corner. Where children still played outside instead of playing video games... A childhood that encouraged you to use your imagination and creativity. With an artist mother I was consistently exposed to design, art, the joy of making things but I also learned that being talented doesn't always bring food to the table...

So I decided to take my artistic heritage and turn to graphic design in the hopes of actually having a job... I always wanted to explore USA so when I was offered to move as a graphic designer for a large swedish furniture company (you know... the big blue box...) to Atlanta in 2005 I accepted packed my bags.... I later moved to Philadelphia where I now live.

After staring at a computer for almost 10 years (yikes I am getting old!) I needed another outlet. Something more real. So I started my jewelry designs. And needless to say it's really hard to find the same joy in front of the computer as I do with my beads, silver wire and leather...

So I am hoping that this will be the beginning of a creative and inspirational life ahead of me."